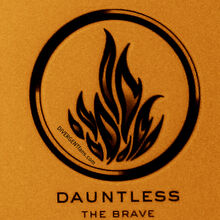 This is a list of crossover characters from other fictions who belong in Dauntless. The people here are very brave and weapons experts, like the canon Dauntlesses, and like with them, this bravery can lead to either righteousness or recklessness. This is currently a work-in-progress.
Harry Potter
Edit
Harry Potter
Ron Weasley
Ginny Weasley
Fred & George Weasley
Albus Dumbledore
Minerva McGonagall
Fleur Delacour
Viktor Krum
Cormac McLaggen
Angelina Johnson
Alicia Spinnet
Katie Bell
Oliver Wood
Severus Snape
Star Wars
Edit
Anakin Skywalker
Luke Skywalker
Leia Organa
Han Solo
Chewbacca
Mace Windu
Ahsoka Tano
Captain Rex
Ezra Bridger
Karan Jarrus
Hera Syndulla
Aayla Secura
Ki-Adi-Mundi
Darth Maul
Savage Opress
Asajj Ventress
Star Trek
Edit
Kirk
Sulu
David Marcus
Riker
Worf
Tasha Yar
The Lord of the Rings
Edit
Merry Brandybuck
Pippin Took
Boromir
Legolas
Gimli
Beregond
Théoden
Éomer
Éowyn
Aragorn
Gandalf
The Chronicles of Narnia
Edit
Shasta/Cor
Corin
Peter Pevensie
Jill Pole
Eustace Clarence Scrubb
Reepicheep
Farsight
Roonwit
Rilian
Tirian
Caspian X
His Dark Materials
Edit
Lyra Silvertongue
Iorek Byrnison
Lee Scoresby
The Simpsons
Edit
Homer Simpson
Bart Simpson
Cyclops
Wolverine
Sabertooth
Mystique
The Quest (2014)
Edit
Andrew
Shondo
Leticia
Sir Ansgar
Ad blocker interference detected!
Wikia is a free-to-use site that makes money from advertising. We have a modified experience for viewers using ad blockers

Wikia is not accessible if you've made further modifications. Remove the custom ad blocker rule(s) and the page will load as expected.